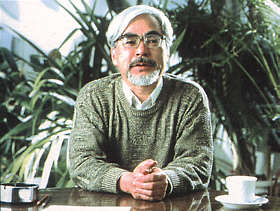 I wasn't much into Japanese animation, infact never knew about it until one of my cousin made me watch this amazing movie called
Spirited Away, from then on I got totally hooked on to Japanese animations.
I was totally blown away by the imagination, philosophy and genuine art that was expressed in this movie. This movie was directed by none other than Hayao Miyazaki.
Mr. Miyazaki often called as Japan's Disney is a living legend and
inspiring man to animators all over the world.
His movies are not some mere eye candy, explosion of colors and scenery but deals with human nature and environment. All of his movies had a recurring theme such as human relationship with mother nature and technology. Women/Girls dominate in each of his stories. They are strong and independent and even the villains of his movies have some redeeming character. Miyazaki does everything from story, animation, drawings to musical scores for his films. The best part is these movies are also biggest grosser in both Asia, Europe and in US.
The following are my favorite ones, if you haven't watched his movies yet, I highly recommend them to you and your family. You will be transported into a different world.
Princess Manaoke – This movie deals with ecological and political theme set in a fantasy land and my favorite one.
And finally here is a nice tribute to his movies , enjoy..
Thanks to KuramasSweetheart

Resources and Pic. courtesy :