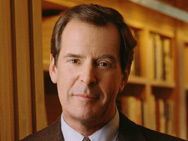 [Mr. Peter Jennings 1938-2005]
[

Pic Courtesy of Abcnews.com

]
America just lost its most popular news anchorman Mr. Peter Jennings to lung cancer. He was my favorite anchor man; I never missed World News Tonight on ABCs. I will surely miss Mr. Jennings calm demeanor and crisp presentation.

While America is deeply sad about this, just as I am, his untimely death also triggered renewed health awareness about the dangers of smoking.

In India I read they have banned or at least going to be strict with films showing heroes and heroines smoke. Some may raise objections to this new rule as an infringement of their civil liberty. I know many of you might say it's not going to have any affect, unless they start closing down on Cigarettes manufactures.

I for one appreciate this one deed. We have to start somewhere isn't it?
If you have lost someone close in your family due to smoking. You will also appreciate this move.

How can smoking be considered cool? It's a disease. Its one of the most common addiction exists in our society. If you care to read about Mr. Peter Jennings, you will know he made many attempts to quit the habit. But nothing worked for him. He even tried hypnotic therapy.

Why is it that many smokers get back to smoking?

It's because when a person quits smoking, the amount of nicotine level drops in their brain. Which makes them feel sick even depressed. This bad feeling leads them to go back to smoking. Isn't this enough reason not to take smoking in the first place?!

In India we all know how much influence movies have on our young people. If they see their favorite hero and heroine smoke they will be tempted to do the same. Believe me when I say this, there are studies to prove this and I am not making this up. When youngsters are spending so much money on movies and talk about their favorite stars. Film world has also a moral duty to take a notice of this.

Now we have our heroines smoking on the screen. Talk about achieving gender equality. If men are dumb enough do this why women? Aren't they supposed to be much smarter than men?!

For those who think it's someone's problem.

Here is a reality check especially if you are young person in school or college someone is probably going to make you smoke. It might be your friend or movie or peer pressure or a sexy ad. It's going to be tough. But remember your health is more important than smoking. Nothing can be more important than being alive and healthy. And smoking can very much take that away from you.

I say this as person who has lost a relative to this habit.